Hurry up!! And from the start, the course of the Employee to the payroll in the city of Terni, in order to satisfy the need, more and more frequently in the workplace, to prepare a professional figure capable of managing all phases of the employment relationship between the company and the individual, in close relationship with the accounting records of the company.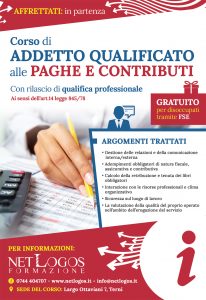 To this end, the objective is to learn the main skills in theory, practice and techniques relating to the accounting records of the company for the payroll.
Management of payroll, processing of employee compensation, bookkeeping, payroll and injury, are just some of the skills that have a fundamental weight in the organization of the company staff, and which require to be met in the presence of qualified staff in technical and specialist.
The course may be free for unemployed thanks to the resources provided by the European Social Fund.
Application deadline: limited seats
For more information: 0744 4047707 – www.netlogos.it
Location: Largo Ottaviani 7, Terni
Course duration: 160 hours
The course of the company's accounting for payroll and contributions will take place in Terni, at Net Logos, Professional Training centre, in largo Ottaviani 7 and releases recognised Vocational Qualification (L. 845/78)
Program of the course in corporate Accounting – Employee payroll, and contrubuti in Terni
The topics covered
And relationship management of internal/external communication
Compulsory measures of a fiscal nature, insurance and contributions
The calculation of the remuneration, and the keeping of books mandatory
Interaction with the professional resources and the organizational climate
Safety in the workplace
The evaluation of the quality of their work in the context of the provision of the service
Want more information on the Course Trained member of staff to the Payroll (corporate Accounting) in Terni